CEO China: The Rise of Xi Jinping, I B Tauris, 2016
The first attempt to come to grips with the background, and politics, of a man described by Forbes as the most powerful in the world.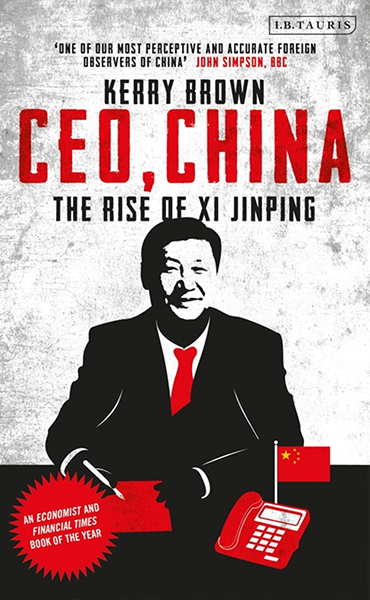 An Economist and Financial Times Book of the Year
https://www.bloomsbury.com/us/ceo-china-9781784538774/
China has become the powerhouse of the world economy, its incredible boom overseen by the elite members of the secretive and all-powerful communist party. But since the election of Xi Jinping as General Secretary, life at the top in China has changed. Under the guise of a corruption crackdown, which has seen his rivals imprisoned, Xi Jinping has been quietly building one of the most powerful leaderships modern China has ever seen. In CEO China, the noted China expert Kerry Brown reveals the hidden story of the rise of the man dubbed the 'Chinese Godfather'. Brown investigates his relationship with his revolutionary father, who was expelled by Mao during the Cultural Revolution, his business dealings and allegiances in China's regional power struggles and his role in the internal battle raging between the old men of the Deng era and the new super-rich 'princelings'. Xi Jinping's China is powerful, aggressive and single-minded and this book will become a must-read for the Western world.
Reviews
CEO China: The Rise of Xi Jinping'. That is the new and excellent book by Kerry Brown. Almost all books on China are either bad or mediocre, but this one is the best book I ever have read on the exercise of power in contemporary China. Every page is good.Definitely recommended, one of my favorite non-fiction books of the year so far. I can readily imagine re-reading it.
Professor Tyler Cowen, Holbert C. Harris Chair of economics at George Mason University,
Xi Jinping, president of China, is now undoubtedly one of the most powerful men in the world. This is the first biography of Xi in English and provides a lucid and readable account of his background, rise to power and political background.
Gideon Rachman, Financial Times
Dazzlingly detailed"
Tom Plate, Distinguished Scholar of Asian and Pacific Studies at Loyola Marymount University, Los Angeles,
Lecture to the US China Council, New York, November 2016, on the book: https://www.youtube.com/watch?v=qSSxklzFHTc